The Nexus Game offers a unique opportunity to explore the challenges of water management for energy and food production. Participants are put into the roles of key ministries of two countries sharing the same river. From this perspective, they may brainstorm and collaborate to creatively form and verify a number of policies. As they try to meet the growing water demands, they still have to remember about ecological and economical balance within and across the borders. The simulation is foremost targeted at water, energy, and agriculture sector professionals: ministries, power plants, capacity building institutions, etc. It is designed to be used within capacity development programs, both as a training tool and a policy exercise.
The game met with an enthusiastic reception from players in many countries around the world, including:
Ivory Coast (African Development Bank), 
Republic of South Africa (Southern African Systems Analysis Centre), 
Egypt (Egyptian Academy of Scientific Research and Technology),
Pakistan (Lahore University of Management Sciences) 
and Morocco (9th GEF Biennial International Waters Conference).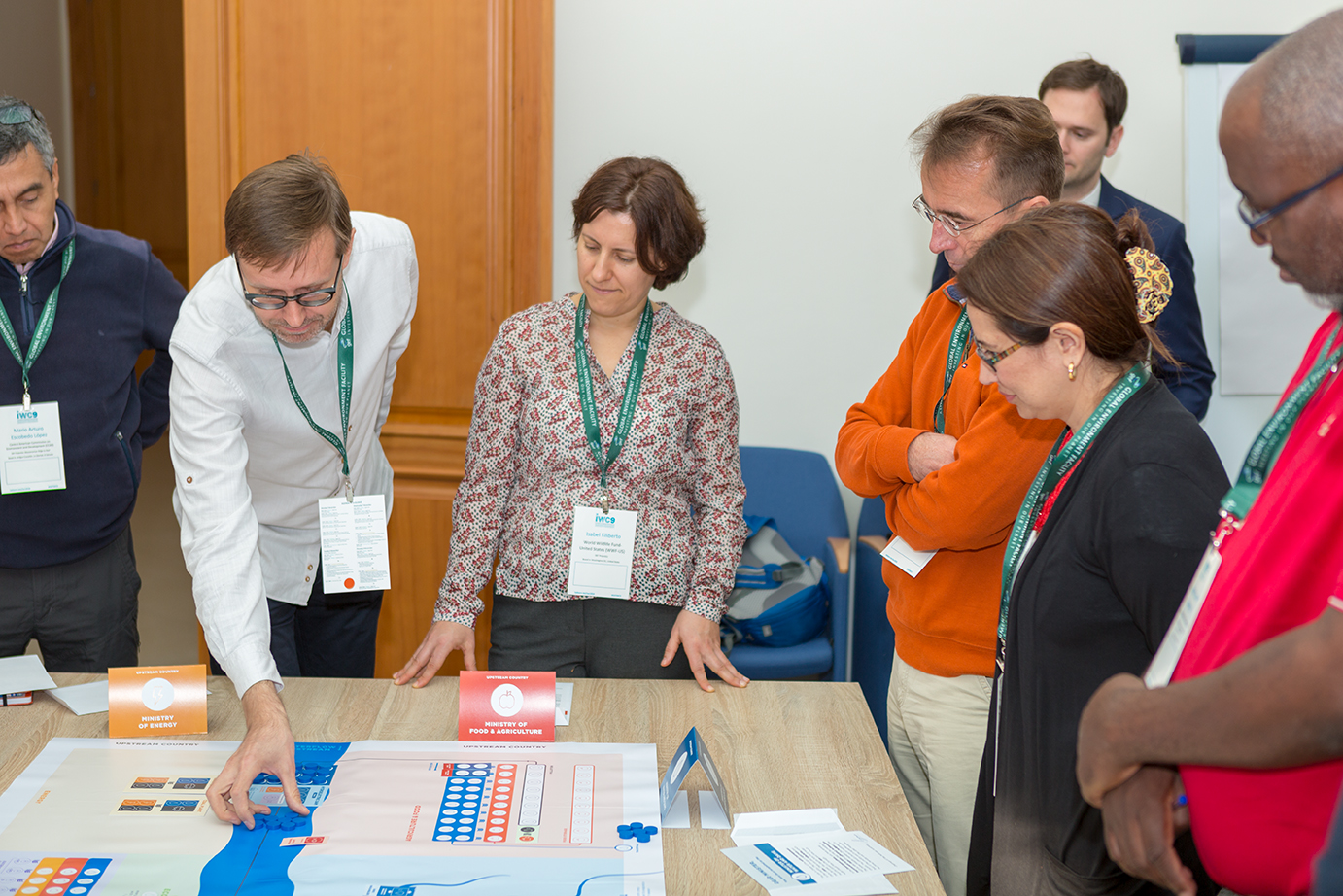 Magdalena Liszka and Piotr Magnuszewski flew all the way to the Marrakech, Morocco. But not to sightsee and relax! Centre for Systems Solutions was invited to the 9th GEF Biennial International Waters Conference!
"The simulation gave me more insight into the benefits of interacting with other people and getting their point of view. It also helped me understand the benefit of working in synergy. A problem can be solved from different perspectives – it is a complex system, but eventually, a consensus can be reached."

"I have learned how managing resources is a complex process; without integration of sectors, it can have side effects on water quality, and impacts a large number of people."

"The game is very engaging and – via presenting different scenarios; dry and wet seasons, pollution, etc. – inspires to get interested in the real world's problems. It also provides an opportunity  to come up with solutions that may be further applied to problems outside the game."

"The Nexus Game is a good visual way to see the nexus dynamics in practice, especially the trade-offs that one has to make at times."

"Even though the link between water-food-energy is simple in this game, you can observe how these nexus elements interact. You can see how uncertainty of natural processes influences the result of your decisions. Group  dynamics can vary a lot between two groups and between 2 games, and is an important (maybe the most important) part of arriving at a decision."
Download technical details for a workshop